Mini Facelift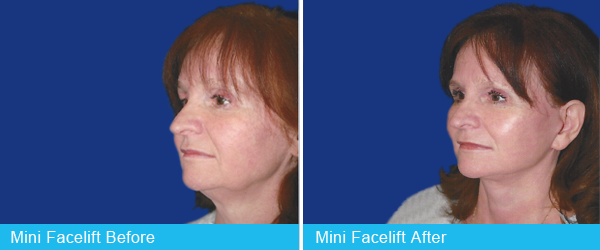 If you are bothered by the signs of aging in your face, facial rejuvenation may be the answer for you. A mini facelift procedure is a good option for you if:
You are physically healthy
You do not smoke
You have a positive outlook and specific, but realistic goals in mind for the improvement of your appearance
Sagging in the midface
Deep creases below the lower eyelids
Deep creases along the nose extending to the corner of the mouth
Fat that has fallen or is displaced
Loss of muscle tone in the lower face may create jowls
Loose skin and excess fatty deposits under the chin and jaw can make even a person of normal weight appear to have a double chin
We offer a mini facelift that refreshes your appearance with a shorter surgical and recovery time. It is an ideal procedure for people with an active lifestyle. The procedure can be performed in the office under local anesthesia.
Performed as an in-office procedure, a mini facelift offers less recovery time and maximum results.
What it will not do: A mini facelift does not change your fundamental appearance and cannot stop the aging process. A mini facelift can only be performed surgically. Non-surgical facial rejuvenation treatments cannot achieve the same results, buy may help delay the time at which a mini facelift becomes appropriate and complement the results of surgery.
Holley Surgical Arts has two offices conveniently located in both Stuart and Port Saint Lucie. Board Certified Plastic Surgeon, Dr. Daniel Holley and his entire staff are committed to your privacy, comfort and goals. We offer a large spectrum of cosmetic enhancements and non-surgical procedures for your personal refinement and encourage you to contact us for a complimentary consultation. We are proud to be the preferred choice of many of the area's doctors, their spouses and their friends.